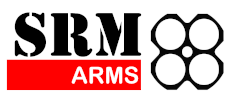 For immediate release.
Contact name: Jeffrey Hajjar
Phone: 208-887-9395
Email: [email protected]
Special Weapons for Military & Police Magazine – SRM Arms 1216 Shotgun
Special Weapons for Military & Police magazine was a firearm magazine featuring unique weapons used by the military and police, which was published  until 2016.
Special Weapons for Military & Police magazine readers included those employed by law enforcement. Not only did it include articles about firearms but also covered topics including knives and the latest news.  One of the most newsworthy shotgun stories is the SRM 1216 called "an innovative, streamlined shotgun design" by D.K. Pridgen and appeared  on the cover of Special Weapons for Military & Police magazine in December 2012 "NEW! SRM ARMS 12 GA. CQB DOMINATOR SEMI-AUTO BULLPUP 16-SHOT MAG,"  which can be seen at the following link https://www.tactical-life.com/firearms/srm-arms-1216/. Some of the author's quotes; "milestone in shotguns," "unleash 16 shells in under six seconds," "SRM Arms has developed a novel way of tackling" increasing the firepower of a shotgun, special forces described their "dream shotgun as sleek, compact and durable with a detachable magazine." If you are looking for the dream shotgun too, checkout the SRM 1216.
SRM Arms is an industry-leading small arms manufacturer, specializing in shotguns and shotgun componentry. SRM is led by a team of small arms design, engineering, and machining specialists with extensive experience in the development of shotguns and other tactical weapons. The SRM team has developed shotguns, weapon componentry and upgrade solutions, which meet the challenges facing hunters, law enforcement officers, and military units and personnel.
###