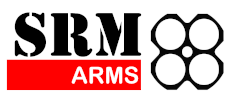 For immediate release.
Contact name: Jeffrey Hajjar
Phone: 208-887-9395
Email: [email protected]
LAUNCH OF NEW SRM ARMS, INC. WEBSITE
Responsive Corporate Site Offering Ecommerce
SRM Arms Inc. is launching new website in 2021. We want offer more ways for our customers to engage with us. We now offer a newsletter, so that you can receive direct communications from us. We are now active on social media so that you interact and follow-us. We are now selling our firearm accessories direct to direct to consumers (D2C) or if you prefer use our dealer locator and purchase your firearm and accessories locally. We want to continue building meaningful relationships with each and everyone of you.
SRM Arms is an industry-leading small arms manufacturer, specializing in shotguns and shotgun componentry. SRM is led by a team of small arms design, engineering, and machining specialists with extensive experience in the development of shotguns and other tactical weapons. The SRM team has developed shotguns, weapon componentry and upgrade solutions, which meet the challenges facing hunters, law enforcement officers, and military units and personnel.
###