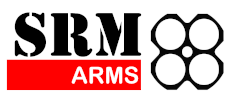 For immediate release.
Contact name: Jeffrey Hajjar
Phone: 208-887-9395
Email: [email protected]
INDEPENDENT REIVEW OF THE SRM 1216
A 16-Round, Revolving Shotgun? The SRM Arms Model 1216—Full Review.
GunsAmerica (GunsAmerica.com) provides a comprehensive catalog of gun reviews, the SRM 1216 was included in this list of firearms under the bullpup shotgun category. To read the entire article follow this link https://www.gunsamerica.com/digest/16-round-revolving-shotgun-srm-arms-model-1216-full-review/.
SRM Arms is an industry-leading small arms manufacturer, specializing in shotguns and shotgun componentry. SRM is led by a team of small arms design, engineering, and machining specialists with extensive experience in the development of shotguns and other tactical weapons. The SRM team has developed shotguns, weapon componentry and upgrade solutions, which meet the challenges facing hunters, law enforcement officers, and military units and personnel.
###
Watch YouTube Video Review of the SRM 1216