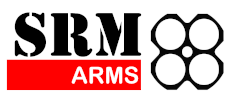 For immediate release.
Contact name: Jeffrey Hajjar
Phone: 208-887-9395
Email: [email protected]
GUNBLAST.COM DECEASED JEFF QUINN SAID THE SRM 1216 12 GAUGE SEMI-AUTOMATIC FIGHTING SHOTGUN IS A GAME-CHANGER
The late Jeff Quinn said "I can think of nothing that I would rather have in a fight that I can legally own," than the SRM 1216. A review of the semi-automatic shotgun, the perfect firearm for your protection in any fighting situation.
GunBlast.com (GunBlast.com) an online firearm magazine was started by the late Jeff Quinn in 2000. Honest and straightforward articles and videos covering the firearms industry. In-depth review of the SRM 1216 auto loading shotgun.  To read the entire article follow this link https://gunblast.com/SRM-1216.htm.
SRM Arms is an industry-leading small arms manufacturer, specializing in shotguns and shotgun componentry. SRM is led by a team of small arms design, engineering, and machining specialists with extensive experience in the development of shotguns and other tactical weapons. The SRM team has developed shotguns, weapon componentry and upgrade solutions, which meet the challenges facing hunters, law enforcement officers, and military units and personnel.
###
Watch YouTube Video Review of the SRM 1216