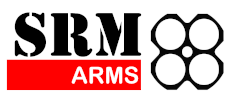 For immediate release.
Contact name: Jeffrey Hajjar
Phone: 208-887-9395
Email: [email protected]
Gun World – Home Defense Choose the Right Shotgun – The Great Intimidator
Gun World was a firearm magazine published for many decades until January 2019. It was influential in the firearms industry and anyone who wanted to know what was going on had a copy lying around.
Gun World (GW) covered many topics, one in particular, was "self-defense" where the SRM 1216 shotgun was featured in the November 2016 edition with the cover title "HOME DEFENSE – CHOOSE THE RIGHT SHOTGUN" in the article titled "The Great Intimidator," which can be seen at the following link https://engagedmediamags.com/outdoor/gun-world/gun-world-november-2016. The author of the article called the 1216, "my special favorite," and we hope someday you will think the same!
SRM Arms is an industry-leading small arms manufacturer, specializing in shotguns and shotgun componentry. SRM is led by a team of small arms design, engineering, and machining specialists with extensive experience in the development of shotguns and other tactical weapons. The SRM team has developed shotguns, weapon componentry and upgrade solutions, which meet the challenges facing hunters, law enforcement officers, and military units and personnel.
###